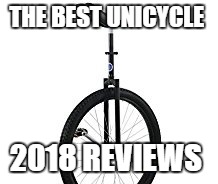 The Best Unicycles 2018 Review 
A unicycle can be defined as a single-wheeled vehicle, which was traditionally applied during the performance of the circus. It comprises of a pedal, spoke wheel and a tube-shaped body that is attached to its seat. The entire idea of the unicycle vehicles can be traced to have evolved from the original bicycle, also known as the Penny Farthing, which comprised of a giant wheel in the front and a relatively small wheel for the backside. There are many benefits of riding a unicycle, which included the health benefits such as burning calories, raising the body's levels of coordination, balance, and concentration. Since unicycles do not consist of any handlebars, it is the responsibility of the rider to balance himself or herself using the leg and abdominal muscles.
The concept of attaining balance on unicycles assists you to build a healthier core and fuel the growth of muscles. Attending long cycling sessions for this vehicles, it increases your heart rate, which results in a healthy cardiovascular system. These are some of the main reasons you should buy a unicycle for you or your friend and families. It is ultimately beneficial toward a healthier lifestyle. Which one should I buy? Well, there are many types of unicycles available in the market, which makes most people to be confused when it comes to purchasing the best unicycles. Therefore, in these post, I have presented a well thought out buyers guide that will solve your problem when selecting the best gadget, and an in-depth review for the top best unicycles in 2018.
Best Unicycles 2018 Buyers Guide
Most people decide to buy the unicycle simply because they have seen someone, either in a movie, in person, or in a video, rolling on the road silently as well as on the weird contraption, where a single wheel is nestled in between their feet. In this case, I will present you with a great buyers guide to consider when planning to buy a unicycle.
The Parts and Style
The unicycles exist in many diverse styles since there are a lot of different things that you can accomplish using them. Therefore, when you are planning to buy a unicycle which will ultimately suit your needs on style, it is wise to decide on what type of riding you want or plans to use the unicycle for. For instance, the learner/beginner are terms used to explain those which you feel most suitable for somebody who is a learner. They serve in the same manner as the freestyle unicycles but is a less specialist manner. Therefore, if you are a newbie, it is advisable that you go for such unicycles.
If the unicycle is purposed to travel or commute to school or workplace, it is not reasonable to use the 20". However, there are unicycles which are designed for this and are commonly known as the road unicycles. They have typically larger wheels and shorter cranks. If the purpose of the unicycle is for Mountain Cycling, Muni is the best suited since they have sturdy, bigger wheels and longer cranks.
Sizes
Sizes of a unicycle are generally based on both the length of your legs and the riding you are eager to perform. If you are purchasing the unicycle for your kid, under ten years, it is clear that they are limited when it comes to the length of their legs. Therefore, you are supposed to select the largest Unicycle that they can fit on, which goes up to 20-inches, which is considered to roll better compared to the 16-inches. This will be easier for them to learn unicycling. However, if the length of your legs is longer than 24-inches, you are required to assess what style and size of unicycles are preferred. Note that the 20-inches is the most perfect for performing tricks on and riding on a smooth surface and most jugglers, boxers, and stake boarders prefer them.
Different Types
Selecting between the vast available Unicycles is based on the purpose of the rider, since there are several types which include the Freestyle, Trials, Mountain, Giraffe, and Long Distance. In this case, if you want more speed and flexibility, Freestyle Unicycle is the best and will enable you to do tricks or maneuver, because the wheel size is small and have a stronger frame. If you are interested in performing tricks and doing at high speed around obstacles, the Trial and Mountain Unicycles are the best since they are made using robust materials that assist them to withstand and of course, absorb the impacts from jumping.
The Best Unicycles 2018- Reviews
Club 26-Inch Road Unicycle – Black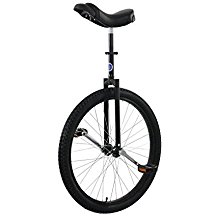 Club Road Unicycle is one of the best 2018 unicycles that is accompanied with many features to fit your needs. Some of the features that come with this incredibly designed gadget include the saddle, particularly the Club Saddle, which are black in colors and have some pattern on the top of the Saddle as well as the front lift handle. The posts that hold the Unicycle's seat is made up of Club Steel, measuring 25.4mm X 300mm, four holes and a rectangular shape mounting bracket. The frame of this impressive Unicycle is made up of Nimbus II steel, with the dimension of 26-inches and black. It comes with the main cap, which measures 40mm, stamped and had the housings. The axle or the hub of this Unicycle is made of black UDC cotterless 36H, a more hardened spindle compared to other Unicycles, and approximately 100mm center, which has the bearing at the center. The Spoke of this gadget is 14G, made out of stainless chrome, which measures 256mm in length for the 3X and some silver nipples. It is one of the most popular Road Unicycle that will ultimately offer the best commuter service if you intend to use your Unicycle to go to school or work. It has a large wheel and proportionally short crank for high performance. It is capable for making a speed of more than 20 Mph when used by an experienced rider.
Pros
Incredible design
Strong and durable
Road Unicycle
High-quality seat made up of Club Steel
Cons
Not more advanced to cater for all needs of high-intense exercises

Fantasycart 16-inches Unicycle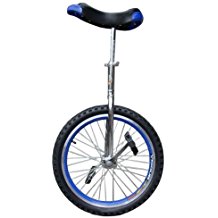 In 2018, most Unicycle users discovered the exceptional and incredible stability offered by the Fantasycart 16-inches on fancy riding and when using it on roads. The Fantasycart Unicycle is responsible for grabbing onto the roadway through its 2.125-inches wide slick tire. The upper tube of this gadget, which is rustproof, as well as the fork, are build with the highest level of durability and are meant to last for a more extended period. The Unicycle also has the two-walled aluminum rim, which is lightweight, and provides the overall floating feeling, mainly when you are cruising on it. In fact, this type of rim is considered to be more enduring compared to other one-walled types of the rim. In general, the Fantasycart 16-inches Unicycle proves to be more comfortable to navigate and agiler compared to other models which have large wheels. This type of Unicycle is mostly recommended for newbies, but even if you are a skilled freestyler, you may find it suitable for your requirements.
Pros
More stable Unicycle
Highest level of durability
Double-walled rims
Can be use by both the beginners and skilled riders
Rustproof upper tube
Cons
Not the best for the most skilled riders

Fun 20-Inches Wheel Chrome Unicycle
The Fun 20-inches Unicycle is recommended for the beginners and the regular unicyclist riders. It provides you with the best integration of strength, durability, and quality. The Fun 20-Inches is one of the best unicycles 2018 and perfect for both the exercising requirements or sporting needs. It has a 16-inch wheel made from aluminum and a Kenda tire. It is elegantly designed to make it attractive, particularly for young people like college teenagers. It is also accompanied by the Chrome Finish color, which is responsible for adding to its beauty. Like the other Fun Unicycles, it has a cartridge bearing as well as the alloy rim. This makes it sturdy and robust for the long-lasting gadget. It also enhances the experience of riding Unicycles since the Saddle height is completely adjustable. The adjustability of the Saddle is responsible for the comfort of riding and ease of use. It is possible to change it until it meets your needs.
Pros
Elegant and beautiful
Adjustable seat
Chrome Finish Color
Durable and reliable
Cons
It is relatively more expensive compared to some models

Diamondback Bicycle CX Wheel Unicycle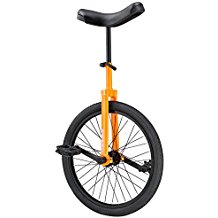 The Diamondback Bicycle CX Wheel Unicycle is the best unit for learning. It comes with many designs, which gives you a chance to select from a variety of colors for this type of Unicycle. The wheel of Diamondback Bicycle CX Wheel Unicycle measures 20-inches in diameter. It is made up of high-quality materials to make it more durable, using the high-tensile steel frame, compared to other models in the market. The W/Quick seat release accompanied by this unit is adjustable, which enables you to adjust the level of the seat to fit your specification. The particular Saddle, together with the stuff that comes with this gadget guards extra padding for the added comfort to enhance your experience of riding Unicycles. It is also lightweight because it is made from a lightweight aluminum allow wheel and the black end covered corrosion resistant spokes, to add the elegance of the Unicycle.
Pros
Have many designs and color
Made up of high-tensile steel frame for durability
Adjustable seat
Enhanced comfort
Cons
No advanced design for a more experienced rider

The Diamondback Bicycles LX Wheel Unicycle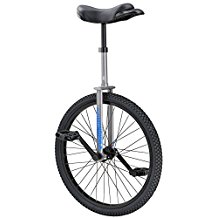 Being one of the best unicycles 2018, the LX Wheel Unicycles stands out to be perfect for the high-end performance of acrobatic exercises. It comes with an equal combination of versatility, toughness and competent. It is more reliable, robust and very versatile and recommended for intense activities. The bar of this incredible LX Wheel Unicycle is made using a high-intensity steel metal and fixed with the 5-degree back sweep. The outstanding strength assures you the durability of the unit. It is built out of lightweight and long-lasting Chromo steel frame. It also comes with a precision oversized bearing axle for the cartridge. The Freestyle LX Unicycle Model is accompanied with a saddle, with front hand hold and built-in scuff guards extra padding, to cater for added comfort.
Pros
Incredible comfort
Strong and Durable
Best for skilled and proficient Unicycle riders
Cons
The plastic pedals may break up quickly
It is clear that you do not need to struggle in finding the best unicycles 2018 which fits all your requirements. However, before you buy a unicycle, it is wise to check on the specifications and features, type of the unicycle, style, parts and of course the price. It is worth to compare these special features with other unicycles available in the market. But be sure that I have provided the list of the most incredible, high-quality, and durable unicycles, which will not break your bank when purchasing.