The Beginners Juggling Guide For Dummies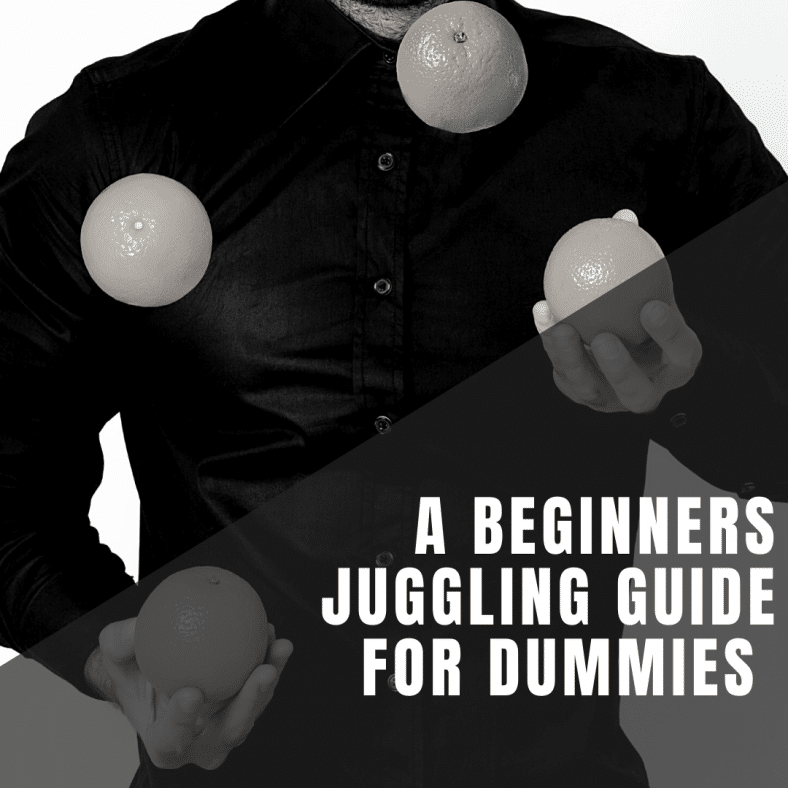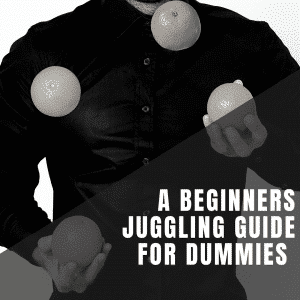 Juggling is a great hobby, and it's fun for all ages. The best thing about juggling is that anyone can do it, no matter your age or experience level!
Have you ever wanted to learn how to Juggle? Then you have come to the right place.  Welcome to the beginners juggling guide for Dummies.  With over 2.5 million views on Youtube for Howcast, this guide will teach you everything you need to know about Juggling, along with the easy-to-understand step-by-step guide below.
Step by Step Beginners Juggling Guide For Dummies
Step 1:- Assume the position to juggle: stand with your shoulders in line with your feet and your elbows bent at 90 degrees.  Not too bent, though, or it will become uncomfortable
Step 2:- Start with one ball. Throwing it back and forth between each hand, make sure your throws are consistent in a gentle arc, and go above eye level.
As a tip, start juggling with beanbags or something that won't roll away when you drop them on the floor.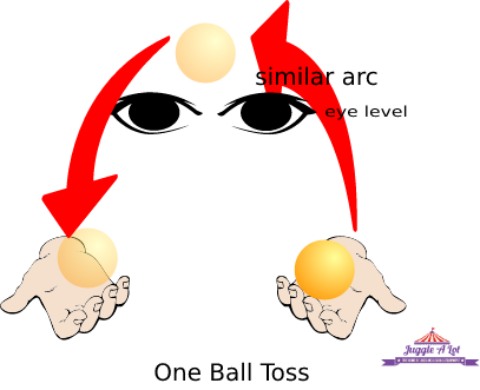 The key points:
Your throws should be above eye level.
You should able to throw the ball with a similar gentle arc every time.
Look at that spot where you want the ball to peak, so your throw is accurate, not going too high or low.
Don't reach up to grab the ball but let it come down gently into your palms.
Step 3:- Start practicing with one ball with your eyes closed. Keep practicing until you can consistently throw one ball in an arch at the same height and the same speed. Remember… Practice makes perfect.
Step 4:- Add another juggling ball into the mix. With one ball in each hand, throw them as before. However, when the first ball peaks, throw the second ball underneath to land in your other hand. Once again. the key to this and every step is practice, practice, practice.   Don't move onto step 5 until you have mastered this.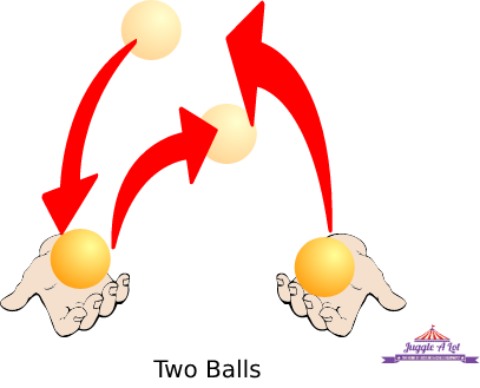 The key points:
Make sure to keep watching the spot at the top of your arc and when it peaks, throw another ball aiming for the same height under the same path.
Don't throw the other ball until the first ball peaks.
Throw both balls to the same height.
Adjust the height if you don't have enough time for both balls.
Keep practicing. Be calm, relax and have fun.
Step 5:-  Now it's time to put a third juggling ball into the mix. Place two juggling balls in your dominant hand and one in the other hand. Throw the juggling balls just as before, but add a third throw right before the second juggling ball comes down. Keep practicing until you can make 5 throws and 5 catches.
Step 6:-  Practice, practice, practice.  Even the very best jugglers in the world started in this way. They didn't just become amazing jugglers. They spend hours every single day practicing their trade.
Once you have mastered juggling with bean bags, moving onto balls, or even juggling batons, the concept is still the same, just a little more difficult.
What to consider while choosing juggling balls for beginners?
Size
Smaller balls are easier for beginners because bigger balls may more likely collide in the juggling pattern. 2.5 inches is a good size for beginners.
Weight
A lighter ball is better for beginners because it uses less arm strength and makes it easier to throw. But not too light that the balls float around to lose control.
Heavier balls are more challenging because they're heavier and have a slower movement, but they can be easier to juggle for experienced jugglers due to their weight distribution.
Material of ball: Bounce
As a beginner, the balls will collide or drop to the floor all the time, so it is best to get a ball that bounces the least. It's not funny if you have to chase them around when they dropped. You want to have more time practicing and less time chasing.
Rubber or tennis balls are not a good choice for beginners because they will bounce when they are dropped.
Soft bean bag balls are a better choice because when the ball falls on its side, it remains in place instead of rolling away as rubber balls do. It's also easier for beginners to catch because they won't have any momentum from throwing them as far or high up into the air."
Best Juggling Balls for Beginners
Here are two best juggling balls for juggling beginners:
Taylor Tries Signature Juggling Ball Set
These 3 balls juggling set is perfect for both professional jugglers and beginners.
Each ball measures 2.5 inches in diameter, which is a good size for beginners, not too big or too small.
The weight of 110 grams is an excellent weight for constant practicing without getting too tired.
Thanks to their high-quality synthetic leather surface, they have a nice, weighted feel and easy grip. In addition, the millet filling prevents the balls from bouncing too much, which is ideal for learning how to juggle. They won't roll away from you as you are trying to learn the basic patterns.
The 6-panel construction is sturdy. You don't have to worry about the balls falling apart after a few uses.
They're easy to clean. Simply wipe them down with a damp cloth if you drop them in the dirt.
If you are looking for good quality and affordable juggling balls, the Taylor Tries Signature Juggling Ball Set is a great choice.
Pros:
2.5 inches is suitable for beginners.
110 grams is a good weight for constant practicing.
The millet filling prevents bouncing.
The 6-panel construction is durable.
Easy to clean
Cons:
The size and weight could be too heavy and oversized for kids.
MATERIAL: The shells of these juggling balls are composed of high-quality synthetic leather. The millet fields in the balls eliminate bounce, allowing for easy juggling and catching.
MANY IMPLEMENTATION: These juggling balls are multifunctional, perfect for both professional jugglers and educational settings where children learn via games and fun activities.
DESIGN: A 6-panel, sturdy construction adds to the endurance of this smart design. These juggling balls are the ideal weight for effortless juggling.
EASY TO USE: Multi-colored balls for children and adults are simple to clean and provide a secure grip. There are three balls in this set.
AN EXCELLENT GIFT IDEA: Tired of phones, video games, and other screens? Why not improve your eye-hand coordination, self-confidence and just have a good time? Juggling is a fun skill that lasts a lifetime.
* As an Amazon Associate I earn from qualifying purchases.
Juggling for the Complete Klutz
If you're starting to learn how to juggle, choosing the right type of balls is important. Some balls are specifically designed for beginners, while others are better suited for more experienced jugglers.
The Klutz 3 Ball Juggling Kit is an excellent option for starting out. The kit comes with three aerodynamic bean bags and an instructional booklet. Millions of people have enjoyed this classic toy over the years, and it remains one of Klutz's most popular products.
The 88-page instructional book that comes with the kit is filled with Klutz certified crystal-clear instruction on how to perform various juggling tricks. In addition, many pictures and illustrations are included to help you visualize the steps.
In addition, the book goes through juggling with a variety of items, clubs, two-person juggling, and more.
The three bean bags included in the kit are made of a soft, lightweight material that is easy to catch and throw.
The bean bags are cubes with 2″ on each side, making them an ideal size for beginners, even for kids.
The Klutz 3 Ball Juggling Kit is recommended for children ages 8 and up. However, adults can enjoy learning how to juggle with this set.
Pros:
The 88-pages instruction booklet is filled with pictures and illustrations
Good size for beginners or kids
Lightweight and easy to catch
Aerodynamic design makes it easy to juggle
Recommended for ages 8 and up
Cons:
Klutz' first flagship set, celebrating 30 years
Comes with 3 aerodynamically sound bean-bags, a storage bag
Includes a 88 page instructional book with Klutz certified crystal-clear instructions
3+ million sold
Recommended for children ages 8+
* As an Amazon Associate I earn from qualifying purchases.